FILMMAKER . WRITER . PRODUCER . ARTIST
Over the last 15 years Amjath has been producing more than a dozen film-content. He has written all his scripts, line-produced and done complete Production of three of his works. His production company, 'Meeran Theatres' does the process from Concept to Completion.
Amjath Meeran is a Film Director, Writer, lyricist, Proprietor of a Film Production Company and An Artist - Both Performing & Visual. Overall he has 18 years of experience in Film Making. He started his journey in the year 2001 and went on to introduce a new genre called Short Feature Films. These Short features have earned many accolades. So technically his current feature film is not a debut, it is his 5th Directorial venture. In 2009 his 7 year old amateur film production company became the accredited associate member at the TFPC: Tamil Film Producers Council, an Apex body that governs Tamil Film Industry, Chennai. In 2014, Amjath launched his 5th Directorial film under his banner Meeran Theatres. Currently the film is under pre-production.
FILMOGRAPHY: EXPERIENCE IN MAINSTREAM FILMS
He has played various roles in the mainstream films for more than a decade. During his evolution as a filmmaker he has worked as an Assistant Director, Co-Director, Technician, Creative Consultant for 5 gen of filmmakers. It all started by doing a maiden creative work for the film 'Kannathil Muthamitaal' directed by legendary filmmaker Mr.Manirathnam and played the role of a graphic designer and storyboard artist for the beginning sequences of the film. He has worked as an Assistant Director for a brief period with Indian Superstar, Filmmaker, Padma Bhushan Dr.KamalHaasan and ace filmmakers Mr.Sasi [Film: Dishyum], Mr.Bharatbala [Film: Mariyan]. He has worked as a creative consultant for the pre-release promotional event of the film - Nanban, directed by Mr.Shankar, the magnum opus filmmaker of India. During which he scripted and managed Film Composer Mr.Harris Jayaraj Concert Stage event where the audio launch of Nanban held. He has assisted in the development works for a new filmmaker Ms.Anita Udeep. He has also worked as a Co - director for a film directed by debutant Mr.Yuvaraj Allagapan [Film: Kaliyugam] for a brief period. In 2011 he was selected by ace filmmaker Mr.Gautham Vasudev Menon to act in his film as a supporting actor. Recently he has assisted new gen filmmaker Mr.Sathya Prabhas Pinisetty as a Creative Consultant for the development works of a 2018 tri-lingual film based in Hyderabad.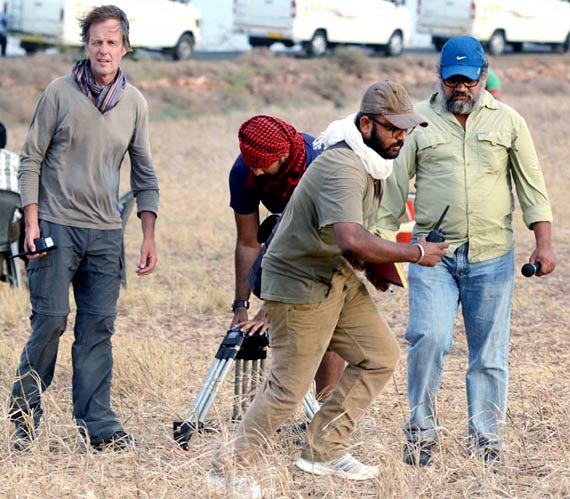 MARIYAN:THE FILM SHOOTING SPOT, INDIAN BORDER- BHUJ DESERT,2012

Amjath is hands on assisting filmmaker Mr.Bharatbala, along with Belgian DOP - Mr.Marc Koninckx for Mariyan - The 2013 Film. The OST & Background Score was composed by The Academy Award Winner Mr.AR.Rahman. With National Award Winner Mr.Danush & Ms.Parvathy Menon in the lead this film was produced by Mr.Ravichandran, AASCAR Films Pvt Ltd, Chennai. Amjath was the Assistant Director and was handling the Art Department and Editing Reports.
WORLDWIDE NETWORKING
Amjath entered the British Council's Young Entrepreneur Award in the year 2008, which was followed by the British High Commission, which lead him to enter into the fresh new world of Creative Entrepreneurship. This eventually helped him meet some of world's great creative leaders, technicians, filmmakers, producers and artists. All Network meetings were with an objective to collaborate in future under live-action, animation and hybrid movies. Most of the meetings were with Hollywood, Emirati, European film fraternities along with Indian.
RESUME
Amjath Meeran is a native of Madurai and brought up in Trichy town. He is a science graduate. He started his career as a Visual Merchandiser for Giordano - Middle East and has travelled widely. He always felt his calling for cinema so he changed his base from Dubai to Chennai in 1999. He later went on to study filmmaking in 2000 and Communication Management till 2002. He studied VISA Silicon Graphics - UNIX based software such as Maya, Softimage along with AVID editing, 2D and 3D Compositing Software. In the residential course, as part of the study program he has attended workshops conducted by worlds leading VFX companies such as ILM, Disney, Pixar and had a great opportunity to dissect and learn the making of greats such as Titanic, Bug's life, Starwars and many more.
LANDMARKS
Filmmaker Amjath Meeran and his Film Production Company - A Start-up in the field of Media & Entertainment was Recognized and Appreciated by some of the eminent world Organizations. For more detail please check-out his company's Twitter page.
INDO-US EVENT: GES 2017
Meeran Theatres was recognized by The Govt. of India and USA as a Promising Indian Start-up Company by inviting Amjath as one of the Special Guest for 2017ís Event of the World: GES 2017 [Global Entrepreneur Summit] Co hosted by USA & India in Hyderabad, in Nov 2017
INDIA, UK, USA, AUSTRALIA & MEXICO EVENT: ABAIB2BSUMMIT 2017
Filmmaker Amjath's Film Content & IP was recognized by The Govt. of Karnataka, ITBT & Tourism Ministry & ABAI [Assn. of Bangalore Animation Industry] to participate in ABAIB2B Buyer - Seller Summit in Nov 2017 as a Seller. The Buyer countries were represented by UK, USA, Australia and Mexico.
EUROPE-INDIA MEDIA CO-PRODUCTION LOUNGE:
Meeran Thetres was recognized by Eurindiamedia as their official Co-Production partner. They are an Assn. which is part of EUFCN: Europe Union Film Commission Network. The Indo European Co Production Lounge was organized by FICCI FRAMES 2012 - Mumbai
GULF FILM FEST 2013, DUBAI:
Dubai's GFF: Gulf Film Festival 2013 is an annual film festival exclusively for the Arab Film Industry from the Middle East. Amjath was given special accreditation to attend all the events for the purpose of tie-ups n networking. He was the only Foreigner [Indian] to attend the event.
WAY FORWARD: UK INDIA FILM CO-PRODUCTION TREATY WORKSHOP, 2008
Amjath was the only film aspirant from Chennai to be invited by the British High Commission, Mumbai for the co-production workshop held in the sidelines of IFFI - Int'l Film Fest of India, in Goa. It was indeed a starting point for him to enter creative entrepreneurship.
WORKS
Sneak Peak into his Past, Present and Future